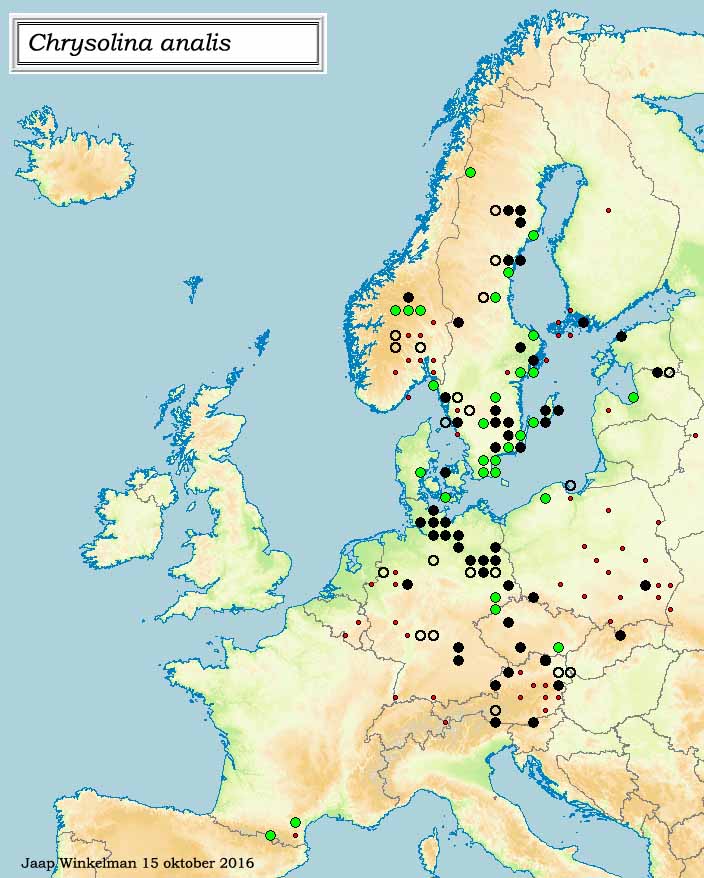 Chrysolina analis - donker duizendbladhaantje - 387 records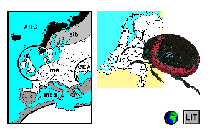 Een vraagteken bij een ongedateerd 'GBIF-record' in Finland van de Universiteit of Oulu, uit de collectie van Uunio Saalas met alleen vindplaats Pyhäj., hetgeen ik als provincie Noord-Österbotten geïnterpreteerd heb, en indicatief met de rode stip midden in Finland afgebeeld.
Kaart van 15 oktober 2016: 387 records uit de jaren 1846-2014.
Literatuur: Bezděk (2015); Derenne (1963); Everts (1920); Everts (1922); Houska (2014); Koch (1968); Köhler (2000); Kroker (1986); Roettgen (1911); Tronquet, ed. (2014); Winkelman (2013).
Collectie: Nederlands Centrum voor Biodiversiteit Naturalis, Leiden, zie alle vondsten. Nederlandse collecties (RMNH) E.J.G. Everts - (ZMAN): K.J.W. Bernet Kempers 1867-1945 - (LUW) Landbouw Universiteit Wageningen: J.B. Ericson, D.L. Uyttenboogaart 1872-1947.
Internet: Biodiversity Map Database (BioMap) / Polish Biodiversity Information Network (KSIB) baza.biomap.pl (<664413 15-10-2016 <78 records) - commons.wikimedia.org - Finnish Biodiversity Information Facility, Finnish Museum of Natural History (LUOMUS), University of Helsinki, Hyönteistietokanta, hyonteiset.luomus.fi - Kuopio Natural History Museum laji.fi (70 records 9-6-2013) - INPN Inventaire National du Patrimoine Naturel, Muséum National d'Histoire Naturelle inpn.mnhn.fr (29-9-2016) - www.biolib.cz: Petr Horsák; naturgucker.de (keine beobachtungen 10-12-2015) - Tolasch & Gürlich Verbreitungskarten der Käfer Schleswig-Holsteins und des Niederelbegebietes (15-3-2015) - www.fugleognatur.dk (2-9-2011).
GBIF 2015 (1-1-2016: 418 records < 1224483527) : ArtDatabanken GBIF-SE Småkryp: Genom Länsstyrelsen Kalmar, Thomas Appelqvist, R. Danielsson, Bertil Eriksson, Niklas Johansson, Thomas Kraft, Håkan Ljungberg, A. Nilsson, Stefan Olberg, Roger Pettersson, Magnus Stenmark, Hans-Erik Wanntorp, Gunnar Sjödin - Chrysomelidae of Central Europe, zie Schmitt & Rönn (2011) - University of Oulu, collection of Uunio Saalas - Ernst-Moritz-Arndt-Universitaet - Forest Research Institute, European Centre for Natural Forests, Coleoptera of Białowieża Forest, D. Kubisz, Lech Borowiec - Löbbecke Museum Düsseldorf, SysTax - Museu de Ciències Naturals, Zoologia, Barcelona: Miguel Prieto Manzanares; Jord Agulló Villaronga - Museum für Naturkunde Berlin - Museum of Forestry, Lycksele, Sweden (LSM): Carl H Lindroth - Natural History Museum Rotterdam: W.J. Veldkamp - Natural History Museum, University of Oslo: BioFokus, Nordic Coleoptera Group, Tromsø Museum: Arne E. Laugsand, Sindre Ligaard, Stefan Olberg - Norwegian Biodiversity Information Centre: Gustad, J.R., Per Kristian Slagsvold - Norwegian Institute for Nature Research (NINA) Oddvar Hanssen, Frode Ødegaard - Oberösterreichisches Landesmuseum Biologiezentrum Linz - Polish Academy of Sciences, Institute of Systematics and Evolution of Animals: D. Kubisz, W. Szymczakowski - Senckenberg, AK Entomologie NABU Sachsen - University of Tartu, Museum of Zoology, Estonian Museum of Natural History (TUZ): J. Miländer, V. Soo.