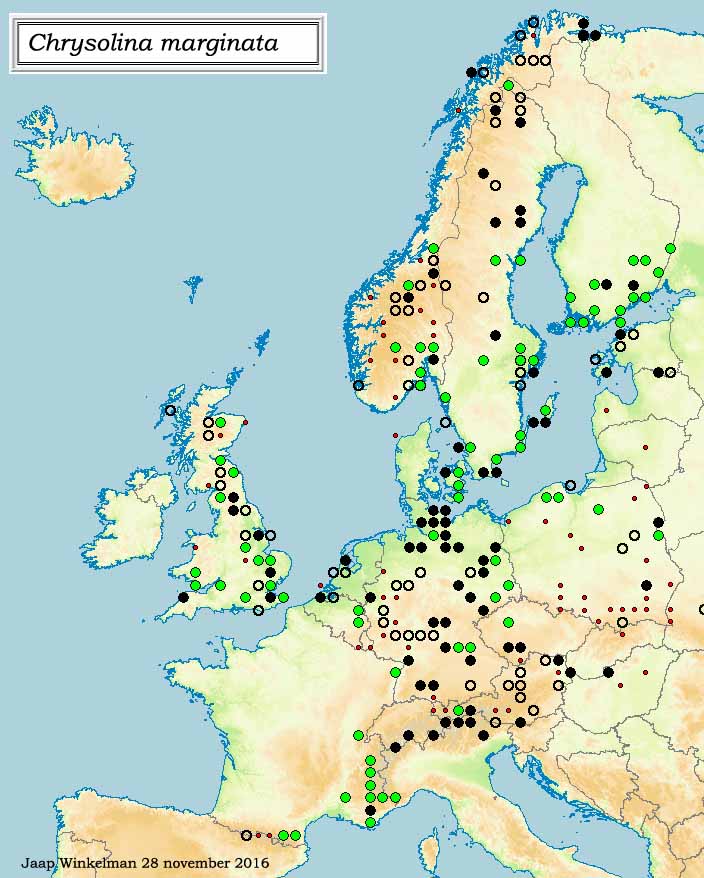 Chrysolina marginata - bruin duizendbladhaantje - 606 records
voornaamste voedselplant
Duizendblad (Achillea ) en Alsem (Artemisia)
uit Groot-Brittannië: Weegbree (Plantago),
Reseda (Reseda), Kamille (Matricaria)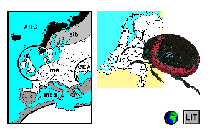 Kaart van 28 november 2016: 606 unieke records uit de jaren 1831-2015.
Literatuur: Callot (2012); Drost & Cuppen (red.) (2008); Everts (1903); Hansen et al. (1997); Van Heijnsbergen (1954); Houska (2014) (6-3-2015); Koch (1968); Koivula et al. (2005); Kroker (1986); Prudhomme et al. (2014); Tiberghien (2016); Winkelman (2013).
Collecties: Nederlands Centrum voor Biodiversiteit Naturalis, Leiden (Nederlandse collectie), zie alle vondsten.
Internet: Biodiversity Map Database (BioMap) / Polish Biodiversity Information Network (KSIB) baza.biomap.pl (<1021260 26-10-2016 <105 records) - Danmarks Fugle og Natur, www.fugleognatur.dk (12-1-2015) - Trevor and Dilys Pendleton (www.eakringbirds.com). - Finnish Biodiversity Information Facility, Finnish Museum of Natural History (LUOMUS), University of Helsinki, Hyönteistietokanta, hyonteiset.luomus.fi (16-9-2012) - Inventaire National du Patrimoine Naturel, Muséum National d'Histoire Naturelle inpn.mnhn.fr (25-9-2016) - Kuopio Natural History Museum, KUO Kovakuoriaiskokoelmat laji.fi (3-9-2015: 55 records) - plutof.ut.ee - www.naturgucker.de (11-6-2013) - www.meloidae.com (Frank Köhler 2011) - waarnemingen.be - www.galerie-insecte.org (14-10-2014) - Tolasch & Gürlich Verbreitungskarten der Käfer Schleswig-Holsteins und des Niederelbegebietes (15-3-2015).
GBIF 2016 (5-4-2016: 560 records waarvan 140 dubbel < 1238474898): ArtDatabanken GBIF-SE Småkryp, Artdata Bugs: Bengt Andersson, Anders Carlberg, Jan Edelsjö, collectie Egen, Tommy Ericson, Bertil Eriksson, Niklas Franc, Magnus Larsson, Håkan Ljungberg, Per Löfgren, Krister Larsson, Niklas Lönnell, Stig Lundberg, Anders Nyman, Roger Pettersson, Hans-Erik Wanntorp - Banc de dades de biodiversitat de Catalunya-ArtroCat: F. Español & A. Viñolas - Biological Records Centre: Derek A. Lott - Chrysomelidae of Central Europe, zie Schmitt & Rönn (2011) - Countryside Council for Wales - Welsh Invertebrate Database (WID): NWRC, W.W. Fowler in 2014: niet meer op internet - Cumbria Biodiversity Data Centre - Finnish Museum of Natural History MZH, Entomological Society of Finland: Seppo Karjalainen, Eero Laajo, Sampsa Malmberg, Mikko Tiusanen - Forest Research Institute, European Centre for Natural Forests, Coleoptera of Białowieża Forest, D. Kubisz, Lech Borowiec - GEOTag der Artenvielfalt: Gurgltal (Tarrenz), Stadtpark Sulzbach-Rosenberg - Leicestershire and Rutland Environmental Records: A. Matthews - Löbbecke Museum Düsseldorf, SysTax - Lund Museum of Zoology - Insect collections (MZLU) - Natural England, Invertebrate Site Register: Roger Key, Paul Lee - Naturkundemuseum im Ottoneum Kassel - Norwegian Biodiversity Information Centre (NBIC) - Museum für Naturkunde Berlin - Museum of Forestry, Lycksele, Sweden (LSM) - Natural History Museum Rotterdam: W.J. Veldkamp, 2015 - Natural History Museum, University of Oslo, Artsobservasjoner, BioFokus: Gunnar Engan, A.E. Laugsand, Sindre Ligaard, Stefan Olberg - Natural Sciences Museum of Barcelona: Museu de Ciències Naturals, Zoologia, Barcelona: MCNC-Art: J. Agulló Villaronga, M. Prieto Manzanares - Norwegian Institute for Nature Research, Norwegian Biodiversity Information Centre: Frode Ødegaard (NINA insect database), Oddvar Hanssen - Oberösterreichisches Landesmuseum Biologiezentrum Linz - Polish Academy of Sciences, Institute of Systematics and Evolution of Animals: D. Kubisz, W. Szymczakowski - Recent Invertebrates Specimens: niet meer op internet - Rotherham Biological Records Centre - Seed and Leaf Beetle Recording Scheme, Bruchid and Chrysomelid Distributions in Britain and Ireland: pre 1900, 1900-1979, 1980 onwards D.B. Atty, R.G. Booth, M.L. Cox, J.S. Denton, J.H. Flint, T.D. Harrison, T.C, Heysham, P. Hodge, A.S. Lazenby, H. Mendel, J.M. Nelson, J. Parry, R.G. Payne, R.G., D. Sharp - Senckenberg: Insekten Sachsen AK Entomologie NABU BIOCASE - Service du Patrimoine naturel, Muséum national d'Histoire naturelle, Paris (1 record Christian Perez) - Suffolk Biological Records Centre (SBRC) - Texas A & M University - University of Oulu, collection of Uunio Saalas - University of Tartu, Museum of Zoology, Estonian Museum of Natural History (TUZ): E. Mäe, E. Merivee, J. Miländer, V. Soo, G. Sumacov.